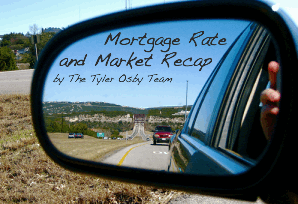 Mortgage Rate and Market Recap for the Week of July 14th-20th, 2008
---
Riding Roller Coasters and Eating Corn Dogs
Have you ever been on a roller coaster and felt like the 'scary part' had already passed and then next thing you know you've got three spirals that make you wish you wouldn't have eaten that corn dog?  In a wierd way, that was last week in the mortgage market.
The Good Start To The Week
As I'm sure you haven't forgotten, on Sunday (last Sunday) the Fed announced they were going to allow Fannie and Freddie to go to the Fed's Discount Window.  What this meant was that the fear of liquidity (hopefully) wasn't a fear anymore.  Mortgage backed securities (the ONLY thing mortgage rates are based on) loved the news and had a decent Monday.
Then, The Reminder of What We Ate Kicked In
Remember how I'm always talking about how the Fed cuts would eventually lead to higher inflation?  Well, starting Tuesday economic news reminded us that the Fed cuts have inflation increasing and as we've discussed, mortgage backed securities HATE inflation.  Thus, causing interest rates to rise.  Here's this last week's breakdown of market moving news:
Tuesday, the Producer Price Index (PPI) report, which measures prices of goods at the wholesale level, revealed that the year-over-year PPI soared in June, marking the highest year-over-year rate since 1981.
Also on Tuesday, the Retail Sales report came out. This report measures the total receipts of retail stores.  Tuesday's report showed that retail sales increased much less than forecast. This may mean that the boost in sales received from the tax rebates may already be fading as consumers are focusing on paying for essentials.
On Wednesday, the important Consumer Price Index (CPI) report, which measures prices paid by consumers like us. It showed that prices overall are up 5% from a year ago.  This was the largest year-over-year rise since 1991!  Are you surprised?… With the cost of gas and groceries increasing, you really shouldn't be too surprised.
How Did Things End Up?
Overall, the week was a rough one for mortgage rates.  Depending on the program, mortgage rates worsened between .375%-.50%.    Don't get upset though, if you can get a mortgage rate in the low to mid 6's, I'd be super happy!  Your buying power is still extremely strong.  Inflation will only likely get worse until the Fed decides to hike rates, which is an EXTREMELY contreveral subject.
Don't get too caught up in this week to week news.  It's always a rollercoaster.  It's just a matter of your timing, and if you know how many corn dogs the market's eaten 😉
Stick with me, we'll get through this.