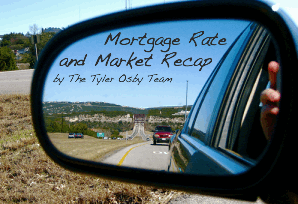 Mortgage Rate and Market Recap for the Week of August 11th – August 17th, 2008
---
National News Matters
It may surprise some, but the national news of Russia's invasion of Georgia really created movement in the market early last week.   Mortgage rates worsened slightly on Monday, but luckily took a turn for the better for the ladder part of the week.   This is just a quick reminder that you need to tune in to international stories like this if you want to understand why the markets are moving!
Inflation Came In High?
On Thursday, the Consumer Price Index (or CPI) came in higher than expected.  In fact, it came in 5.6% higher than last year!  That's the highest year over year increase since 1991!!   Surprisingly enough, mortgage rates continued to improve after this news!   It just goes to show that if you're only looking at one report and not the entire picture, it's tough to predict where things are headed.
How Did Rates Improve?
This was the question of the day on Thursday.  The 'why' behind it was falling oil prices!  With oil prices hitting $147/barrel in July, the market is happy to see oil back down to $113/barrel.   Since Thursday's report was a 'lagging indicator' being a month old, traders thought with the declining cost of oil – next months figures would look much better (or less bloody).
What Did Those Reports Say?
Each week, I put up an economic calendar of news coming out that following week.   Here's the results from last week:
(Click to Hugisize)
What Impacts Mortgage Rates?
If you're looking to purchase or refinance a home, it's important to know what moves mortgage rates.  There are normally two major things that impact the direction:
Economic News.  (That's these calendars).
International News. (major events, war related, etc).
Stock Market. (Money flows from equities (stocks) to bonds when it seeks shelter).
What Are Rates Based On?
It's been mentioned before, but as a common reminder – mortgage rates are only based on one thing. Mortgage Backed Securities (MBS).  The only way you have access to these is through live bond quotes.
Looking For Mortgage Rates?
If you're looking for specifically what mortgage rates are doing, I'd be happy to help with a custom rate quote.  Each scenario is different (there are 27 different factors a mortgage rate is determined by).  If you or someone you currently know are looking for a mortgage, I'm here to help!
Information without obligation.  That's my policy.  If you like what you hear, my team would love to help!