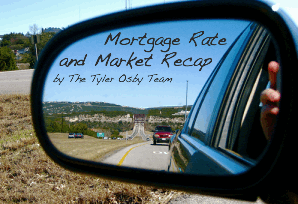 Mortgage Rate and Market Recap for the Week of September 22nd – September 28th, 2008
---
Financial Plan Awaits Approval
Last week, there was not a ton of movement.  It shouldn't come by surprise when everyone is waiting for congress to pass a bill funding many billions ($700 billion) of tax payer dollars to hopefully take care of our current financial crisis.  With the back and forth between both parties, traders really aren't sure if/when and specifically how the bill will read.
Until we reach some sort of certainty (please don't laugh too loud..) we're going to continue to see very little change in the market.  I (like many people) see Monday as being that day.  It could be wild.  Extremely wild.
Washington Mutual Fails
It's been in the making for quite some time now, but this week it became a reality.  Another bank fell due to liquidity issues.  The failure of Washington Mutual was the largest in US history.  It wasn't the first and sure isn't going to be the last.  You can see more here.  It looks like Wachovia is the next one to look out for.
What Did Those Reports Say?
Each week, I put up an economic calendar of news coming out that following week.   Here's the results from last week:
What Impacts Mortgage Rates?
If you're looking to purchase or refinance a home, it's important to know what moves mortgage rates.  There are normally two major things that impact the direction:
Economic News.  (Like the calendar above).
International News. (major events, pending legislation, war related news, etc).
Stock Market. (Money flows from equities (stocks) to bonds when it seeks shelter).
What Are Rates Based On?
It's been mentioned before, but as a common reminder – mortgage rates are only based on one thing. Mortgage Backed Securities (MBS).  The only way you have access to these is through live bond quotes.
Looking For Mortgage Rates?
If you're looking for specifically what mortgage rates are doing, I'd be happy to help with a custom rate quote.  Each scenario is different (there are 27 different factors a mortgage rate is determined by).  If you or someone you currently know are looking for a mortgage, I'm here to help!
Information without obligation.  That's my policy.  If you like what you hear, my team would love to help!